Hello everyone!

We present you global update of Simple Preflop Holdem v2.0

First of all, I would like to draw attention to the fact that from this day the pricing policy regarding the program is changing. Now the Simple Preflop Holdem license can be purchased for $250 per 1 PC/1 Year - you can do this on our website
People who purchased a license earlier will automatically receive a license in the new version for 2 years for free, and will also be able to roll back to the previous version and in older versions will be able to use a lifetime license.
We ask everyone to treat these changes with understanding, in order to support and further develop the program, we are forced to change the approach to licensing.
List of changes in the new version:
1. A new approach to bucketing has been implemented, which is currently considered the most advanced. In order to use new buckets in your calculations, you need to download them by clicking on the "+" button in the calculation settings menu: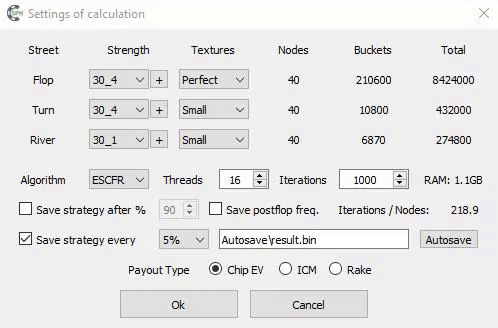 New bucketing is made on a combination of all kinds pairs of hands and boards. New buckets allow you to get more accurate calculation results using less RAM and perform faster calculation.
2. For old bucket removed the ability to perform calculations with "None" textures, the minimum textures for calculations using old bucketing is Perfect-Small-Small
3. Added the ability to perform calculations with Knockouts (including progressive ones). In order to perform calculations with knockouts, it is necessary to select the ICM model, activate the checkbox "Knockout", indicate the % for bounty which is paid when a player is knocked out (100% for regular bounty tournaments, 50% for standard progressive knockout tournaments), and then indicate the size of the bounty per each player.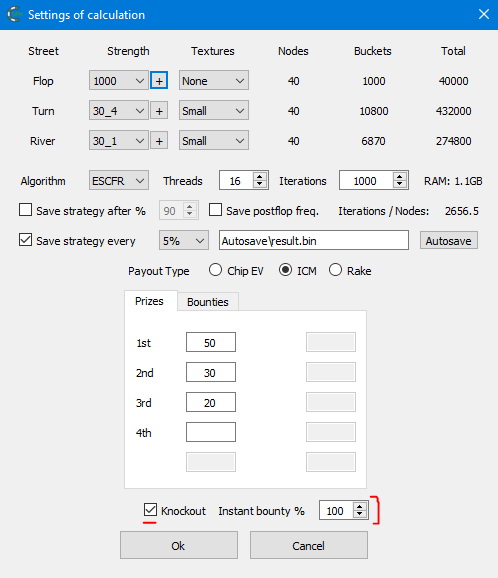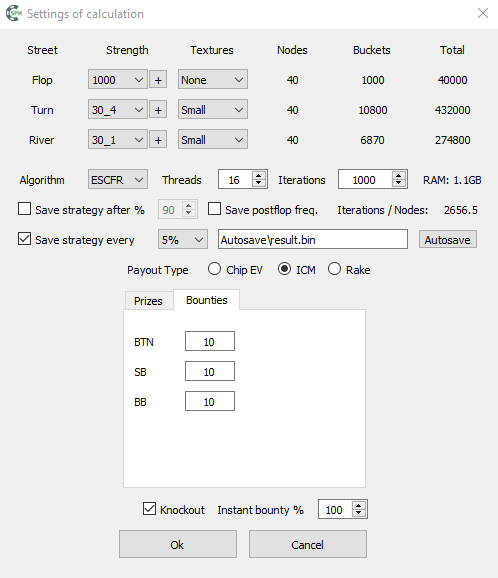 4. Added the ability to charge preflop rake without going to postflop (such rules applied in some offline games and in some poker rooms). In order for preflop rake to be taken into account, you must activate the "Preflop Rake From Pot" checkbox and set the size of the pot, exceeding which will activate the rake accounting. For example, to take into account the rake model that is used in the GG Network, you need to specify 2.5 (if your tree is built in big blinds):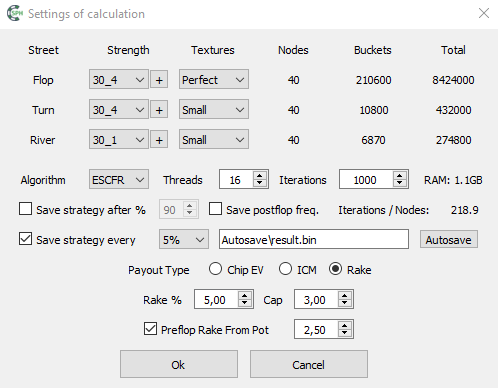 5. There is an opportunity in the calculation process to dump it. This functionality is intended for the case if you need to stop the calculation and you want to resume it later from the moment you stopped. To do this, click Dump:
After which the calculation can be stopped by the Stop button. To start the calculation from the same moment when Dump was made, you need to open it through the menu File -> Open Dump.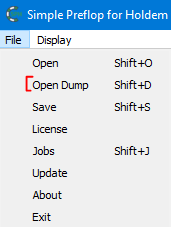 6. There are additional options in the sizing settings menu that simplify the construction of trees on the preflop: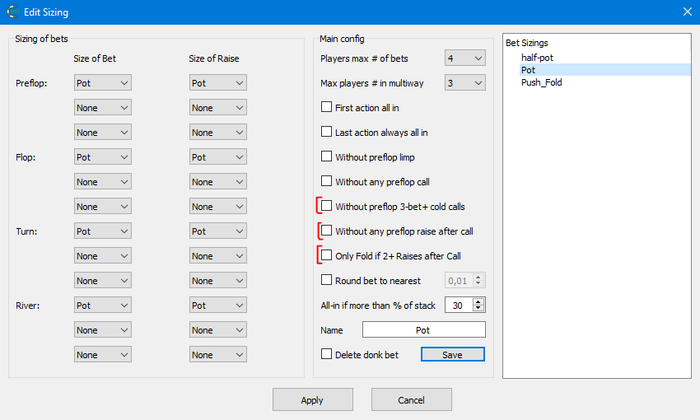 "Without preflop 3-bet + cold-calls" - preflop cold-calls of 3-bets, 4-bets, ... are removed from the tree of bets
"Without any preflop raise after call" - if the player played call, then preflop raises will be removed for him in the futher branches of tree
"Only Fold if 2+ Raises after call" - if after a player's call there were 2 or more raises, he will always fold preflop
7. The scaling of the interface on high-resolution screens has been improved, a dark theme has been added (to switch to it, you must go to the Display -> Theme -> Dark menu):
8. Added support of ranges in pio and ppt format.
9. Now you can open/save 2/3-way spots from Simple Preflop Holdem to Simple 3-Way, for this you need to right-click on a branch in the preflop tree, which is a transition to the 2/3-way postflop spot.
10. Added the ability to remove all alternative top-level branches that do not lead to the selected one - "cut parent nodes"
after you apply the option:
11. Added support for using more than 64 threads of processor
12. Minor improvements and bug fixes
To discuss the program, join our discord chat server: https://discord.gg/RhpgpBS