The new version of GTOBase v1.21 has been published!
VIEWER
* Added a report that allows you to view strategies for multiple stacks at the same time. With this report, you can compare strategies for selected stacks on a selected node. The report is available both preflop and postflop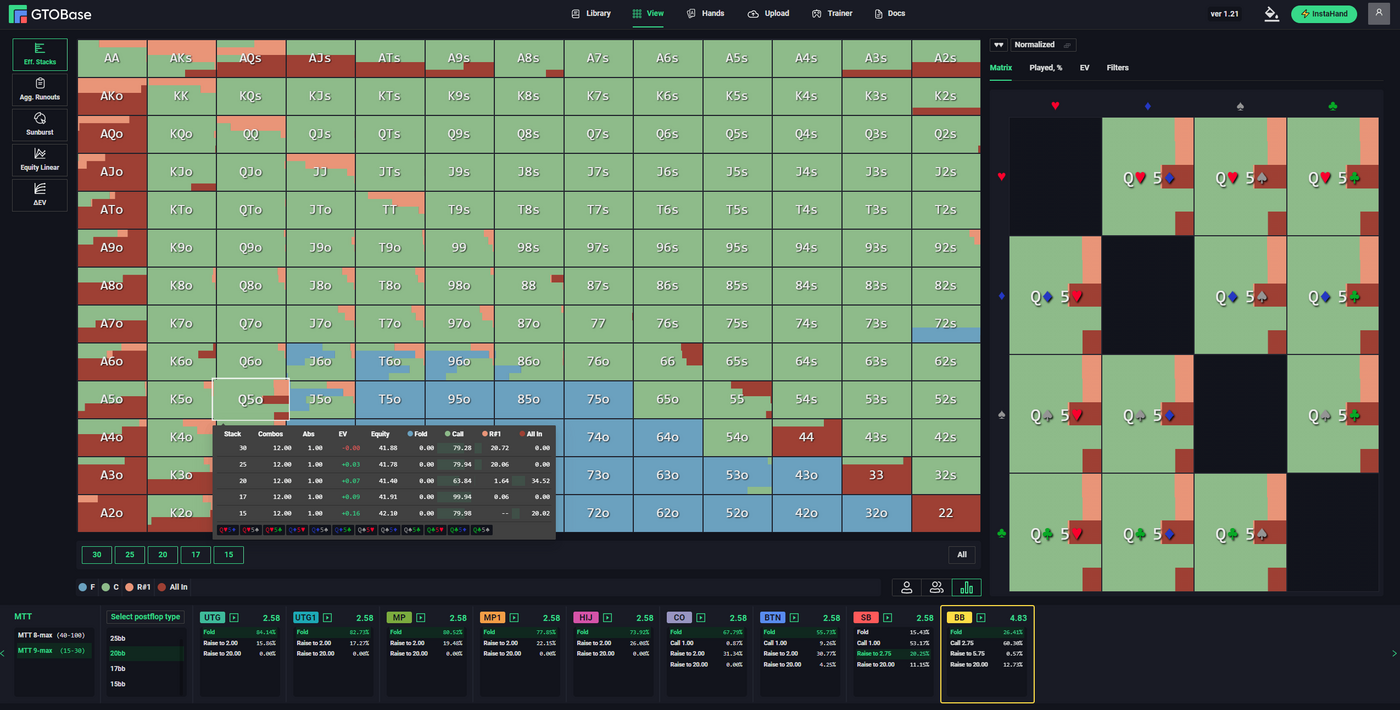 * Aggregated postflop runout reports have been moved to the reports/charts section, making it easier to navigate through the game tree without having to close the report.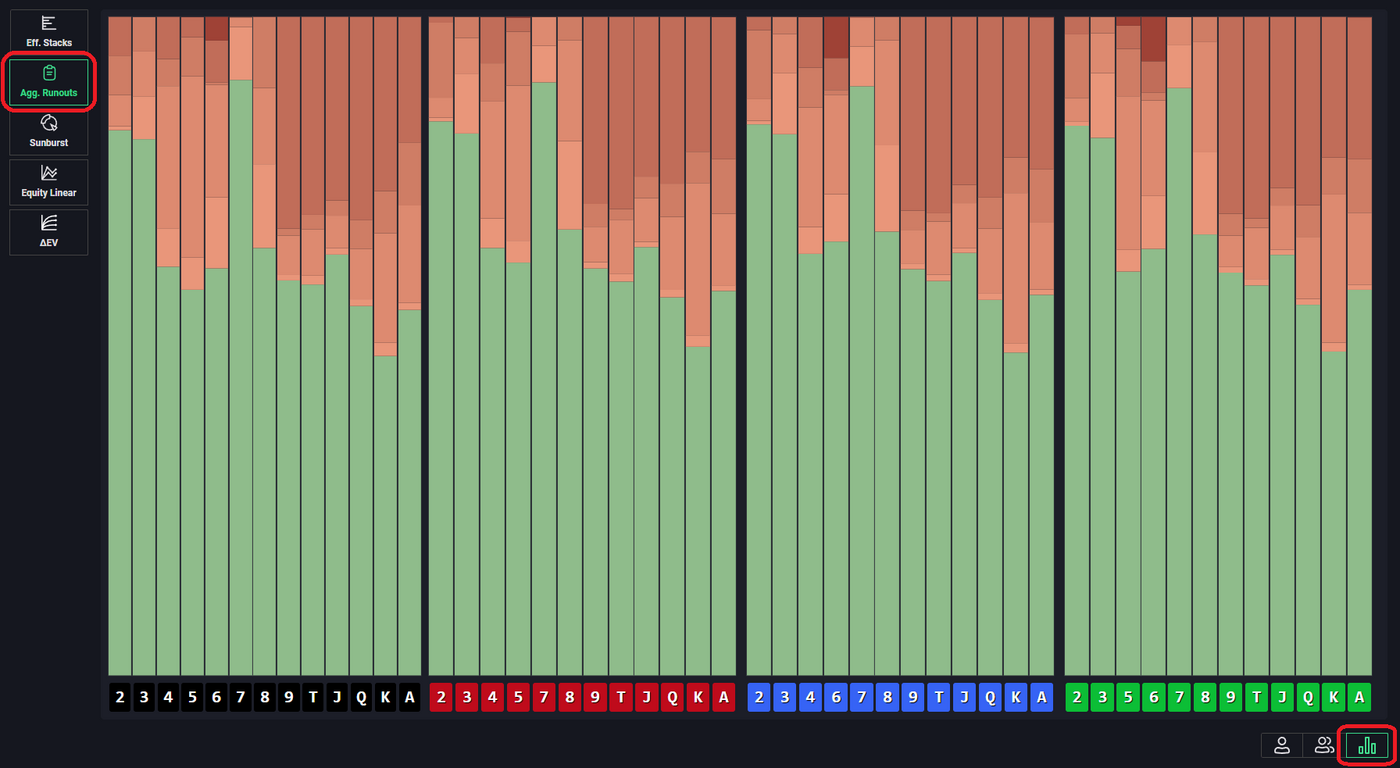 * A pop-up window with detailed information on the strategy has been added to the aggregated flop reports, which is displayed when hovering over the histogram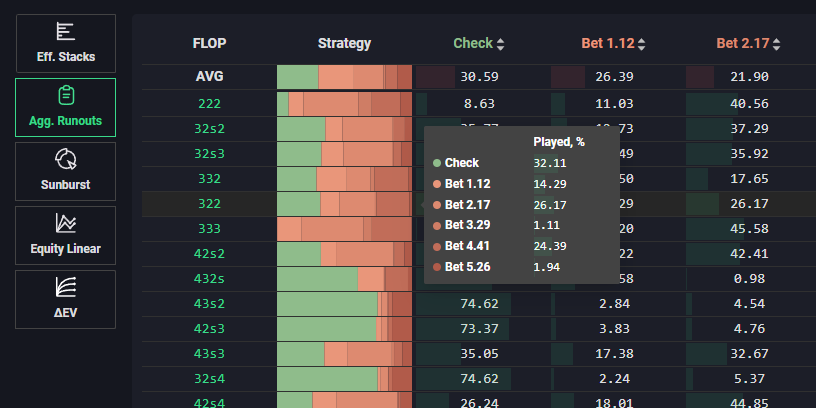 * Added new graph "ΔEV". On this graph, the lines show the ΔEV of hands by actions. ΔEV is the difference between the EV of the hand for the specified action and the action with the highest EV. If the EV of the specified action's hand is the maximum, then ΔEV shows the difference relative to the action with the second maximum EV with a "+" sign.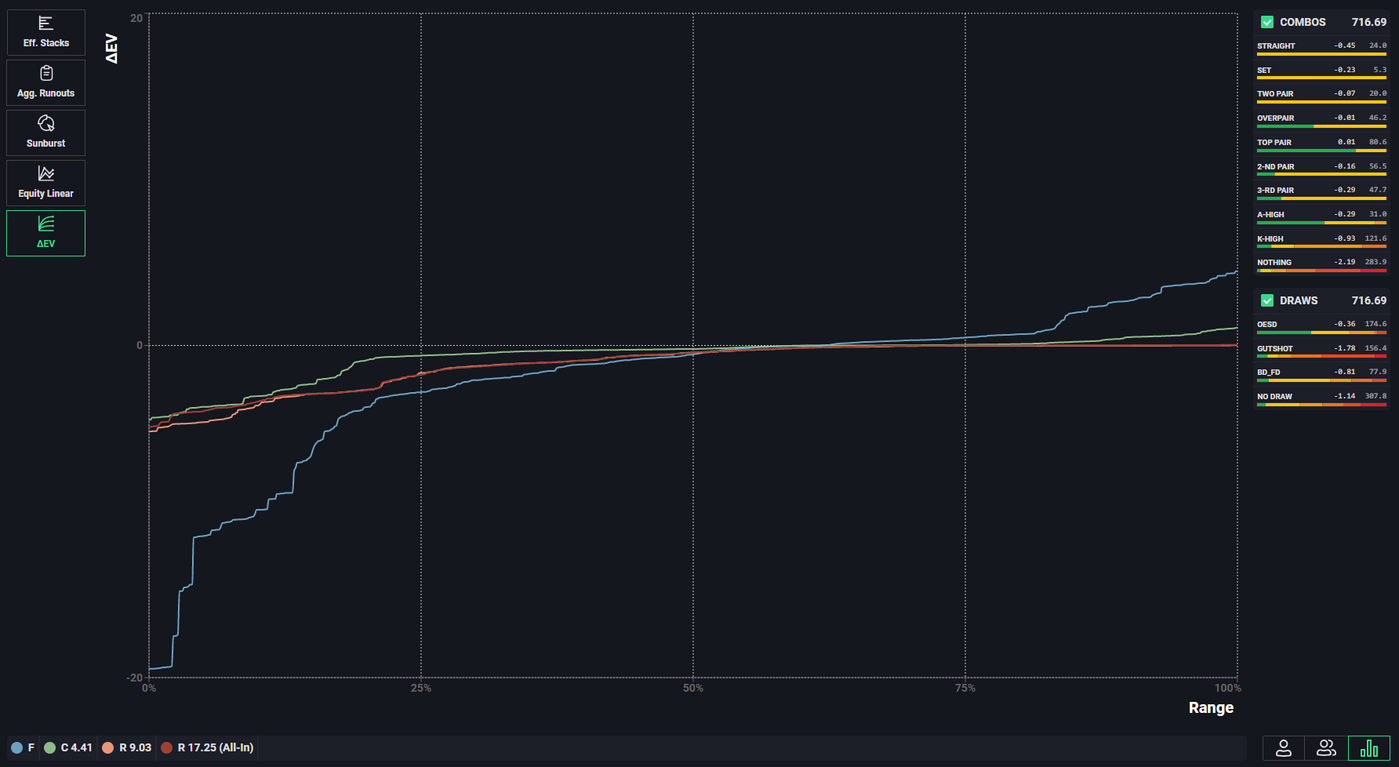 * Added "ΔEV" mode for range display. You must select one of the actions below the matrix for which data will be displayed.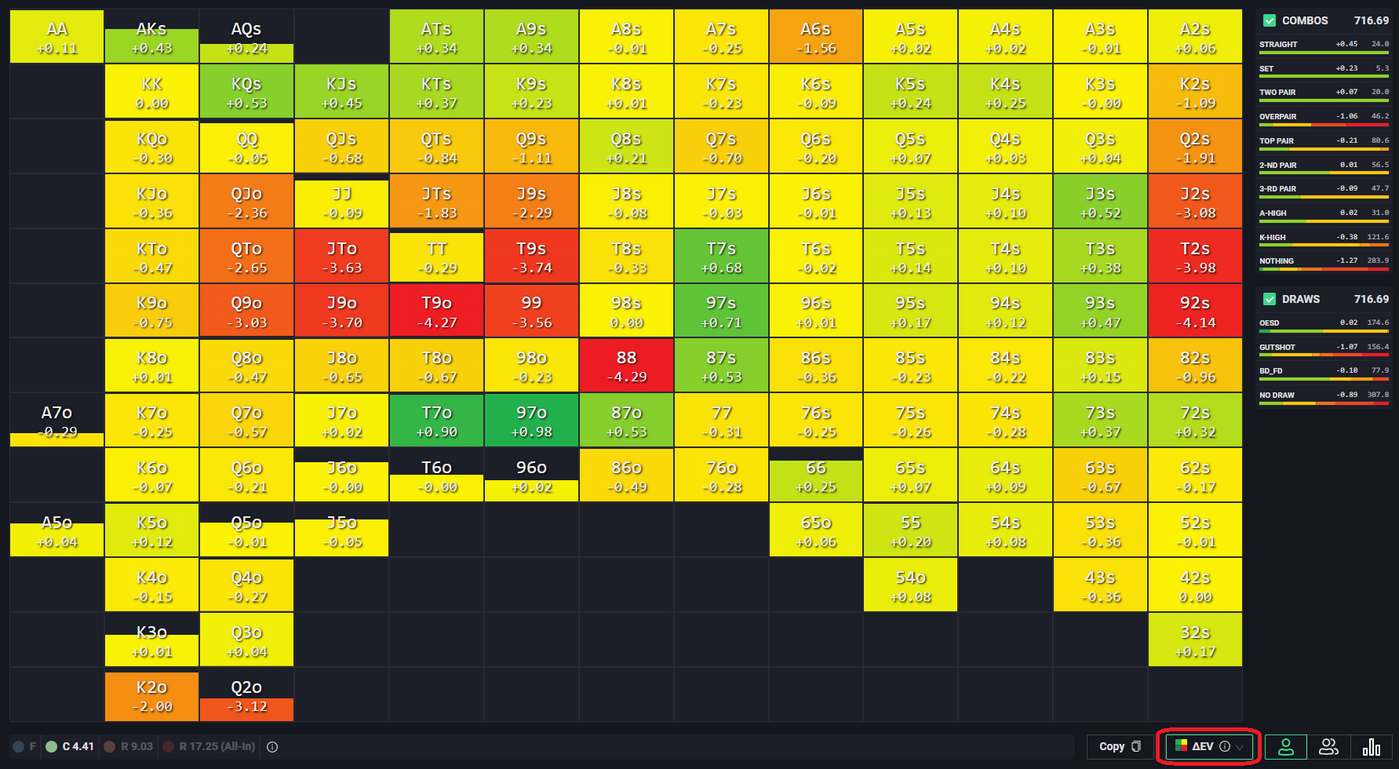 HANDS
* Some reports have been renamed to better reflect the content of the reports.
* Stats -> HUD
* Hand Line -> Hands | line
* Hand Line Stats -> Lines
* Added new report "Players | Line". The report is focused on comparing the aggregate strategy of players and GTO on the specified game node. The data are presented in 3 projections:
* aggregated data for Hero/Opponents (Villain)
* aliases
* players nicknames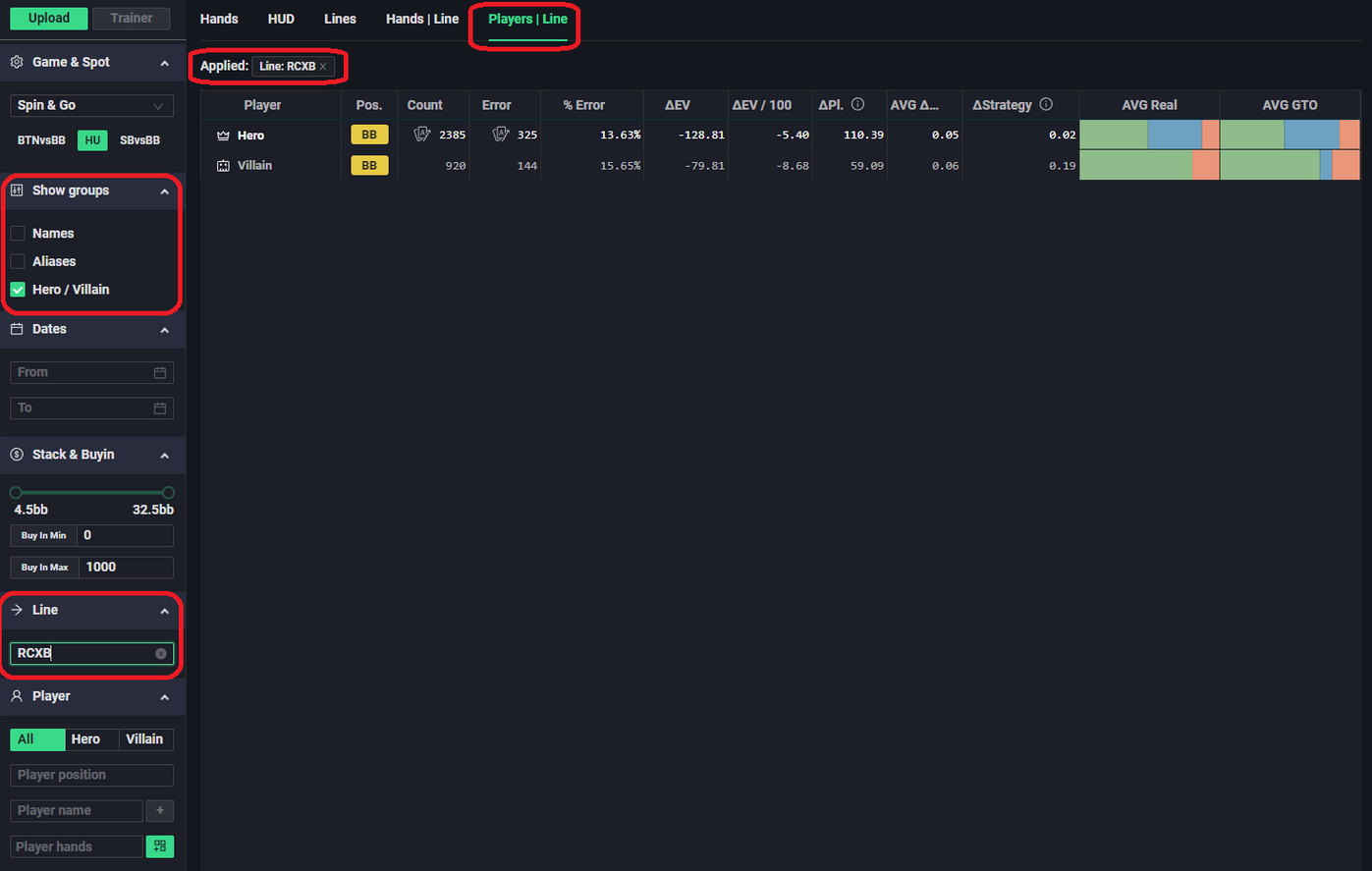 * Added the ability to view reports on several selected spots at the same time (available in all reports except HUD)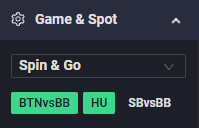 * In reports with aggregated strategy (Lines, Hands | Line, Players | Line) the "ΔStrategy" parameter has been added, which shows the difference between the player's strategy and GTO. Sorting by the "ΔStrategy" parameter allows you to quickly find lines in which the strategy differs significantly from GTO.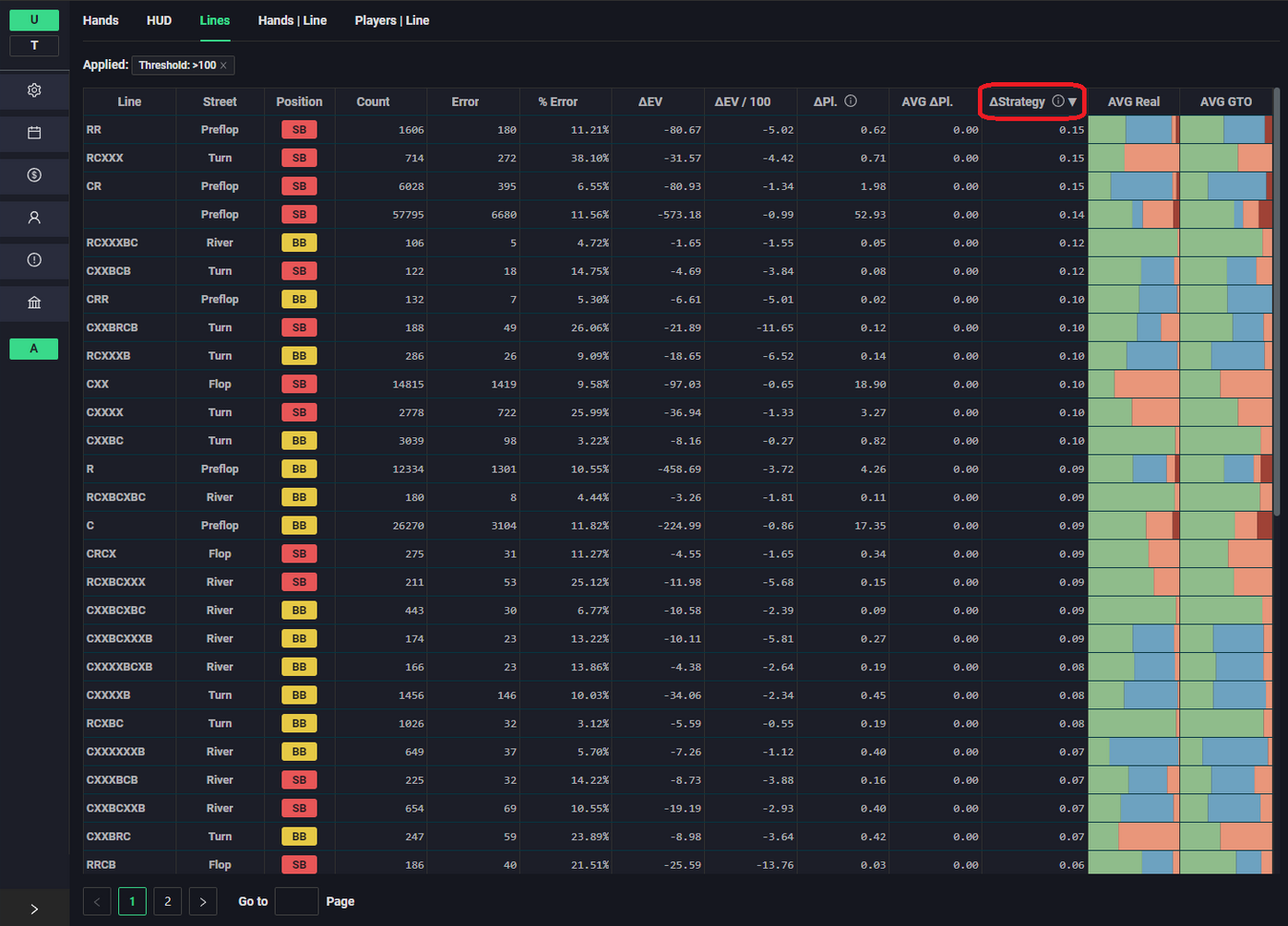 * Now you can view reports from the Villains perspective
This functionality allows you to look for leaks and errors in the actions of your opponents, which will help you exploit their weakest points in the strategy. Villains perspective functionality is available in the HUD, Lines and Hands | line reports.
FIXED
* Floating display bug in Sunburst chart
* Optimized display of detailed data when hovering over matrix cells
* Bug displaying the filter by suits in the Viewer
* Removed unnecessary requests to speed up application loading
* Redesigned filter tag names in reports
* Fixed minor bugs reported by users
* Changed some icons and buttons to make working in the application even more plesant
As always, we welcome your feedback, share your ideas and wishes!
If you're new to our app, be sure to check it out right now: https://gtobase.com/
Or download the mobile version: